Vojna na Ukrajine výrazne ovplyvňuje vývoj na finančných trhoch. Určite si viacerí dávajú v súčasnom období otázku, čo majú robiť v súvislosti s investovaním či peniazmi na bežných účtoch? Vybrať ich, pretože trhy zaznamenali pokles, či mať hotovosť doma pre istotu, ak by banky limitovali či blokovali výber hotovosti z účtov?
Situácia je vážna, o tom niet pochýb. Aktuálne však ide hlavne o straty na ľudských životoch a majetku, aj civilného obyvateľstva po celej Ukrajine. Určite nepodliehať panike.
Ako vyzerá situácia na svetových trhoch?
Ešte v piatok 25.2. všetky otvorené trhy rástli. Dokonca aj ruský index MOEX Russia Index, ktorý vo štvrtok zaznamenal prepade o 33% aktuálne rastie (+23%). Európske trhy skončili včera v strate zhruba -3%, americké dokonca v pluse (S&P500 +1,50%, Nasdaq +3,34%). Kurzy akcií klesajú, oslabuje česká koruna a naopak cena ropy rastie. Taktiež cena zlata, ktorá plní úlohu bezpečného prístavu v dobách kríz, rastie smerom hore.
Väčšina ľudí investuje dlhodobo. Má pred sebou ešte veľa rokov investovania. Je pravda, že zatiaľ nevieme, ako sa bude situácia ďalej vyvíjať. Jedno z pravidiel investovania hovorí o dodržaní investičného horizontu. Preto je dôležité nevyberať peniaze z investičných produktov v čase poklesu, ak na to nie je racionálny dôvod.
Výber peňazí môže byť rizikový hlavne pre tých, ktorí investovali len pred nedávnom. Tí, čo majú nastavený dlhší časový horizont a pravidelné investovanie, tak práve tí z takýchto poklesov trhov profitujú.
Čísla sú toho dôkazom.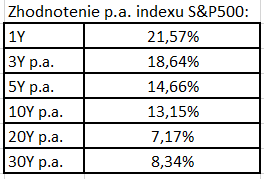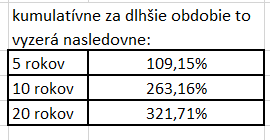 Za uvedené obdobie sa pritom stali rôzne udalosti ako: dotcom bublina v roku 2001, jedna z najväčších kríz v novodobých dejinách kapitálových trhov – rok 2008 (krach veľkých bánk a strata ratingových hodnotení veľkých spoločností), vojenské krízy, COVID od r. 2020 a pod. Od začiatku roka trhy klesajú. Je to veľmi krátke obdobie na reálne zhodnotenie situácie. Na pokles mali vplyv najmä – výber ziskov za predchádzajú rok 2021 (patril k veľmi úspešným v histórii, napr. index S&P500 dosiahol zhodnotenie takmer 27 %, deviate najvyššie od roku 1950), inflácia – rastie celosvetovo, v eurozóne je aktuálne na hodnote 5,1 %, v USA dokonca 7,5 % (Slovensko 8,4 %) a napokon neistota ohľadom vývoja situácie na Ukrajine. To všetko sa premietlo do tohtoročných poklesov.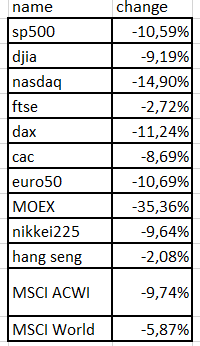 Tiež je dobré sledovať vývoj menových kurzov. Americký dolár voči euru zaznamenáva posilnenie na 1,1163, pričom to nie je najnižšia hodnota v tomto roku.
S čím je potrebné počítať:
– inflácia, najmä z dôvodu rastu cien energií bude veľmi pravdepodobne inflácia rásť,
– budú rásť ceny komodít (okrem iného ropa, čo bude vplývať na cenu benzínu a následne do rastu inflácie), najmä tých, kde má Rusko významné zásoby, môže to byť príležitosť pre špekulantov, nie pre dlhodobých investorov,
– nedostatok (nedostupnosť) niektorých komodít môže ohroziť dostupnosť tovarov, ktoré sú závislé na týchto komoditách,
– je veľmi pravdepodobné, že budú rásť úrokové sadzby, niektoré banky už zvýšili sadzby na úvery, je možné, že aj Európska centrálna banka prístupy nakoniec k zvýšeniu sadzieb, čo sa prejaví celkovým zvýšením pri úveroch, ale pri vkladoch.
Investovať úspešne znamená, dodržať investičný horizont, investovať pravidelne a diverzifikovať portfólio.
Ing. Róbert Vitkovský, produktový manažér