Máte už svoj návod, ako našetriť pekné peniaze? Všetci nezarábame státisíce ročne a zrejme ani nedostaneme veľké dedičstvo. To však neznamená, že nemôžeme vybudovať značné bohatstvo – len to bude trvať trochu času. Ak ste mladý, čas je na vašej strane. Prečítajte si niekoľko tipov, ako zvýšiť svoje úspory a pracovať na dosiahnutí tohto cieľa.
Zastavte nezmyselné výdavky
Bohužiaľ, ľudia majú zvyk svoje ťažko zarobené peniaze minúť na tovary a služby, ktoré nepotrebujú. Väčšie výdavky na luxusné predmety tiež zabraňujú mnohým ľuďom, aby zarobili peniaze na úspory každý mesiac.
To znamená, že je dôležité uvedomiť si, že zvyčajne to nie je len jedna položka alebo jeden zvyk, ktorý musí byť vystrihnutý, aby ste nahromadili bohatstvo. Zvyčajne, aby ste sa stali bohatý, musíte prijať disciplinovaný životný štýl a rozpočet. Uprednostniť dôležitosť a budúci prospech pred nepotrebným pohodlím teraz. Napríklad našetriť na nový byt, než kúpiť nové SUV na lízing.
Dôchodkový fond
Keď jednotlivci zarábajú peniaze, ich prvou zodpovednosťou je platiť bežné výdavky, ako napríklad nájomné alebo hypotéku, potraviny a iné potreby. Akonáhle sú tieto výdavky kryté, ďalším krokom by malo byť financovanie dôchodkového plánu.
Bohužiaľ, plánovanie dôchodku je pre mnohých mladých "zbytočné". Tu je dôvod, prečo by to tak nemalo byť: čím skôr začať v živote odkladať znamená, že hoci budete vkladať malé príspevky, máte šancu skončiť s výrazne viac peniazmi ako niekto, kto vkladal oveľa väčšie príspevky, ale začal neskôr.
Dnes môže byť mladému človeku zaťažko odkladať mesačne 40 eur, ale o 5 rokov neskôr, už bude musieť odkladať 58 eur mesačne, aby dosiahol rovnaký cieľ.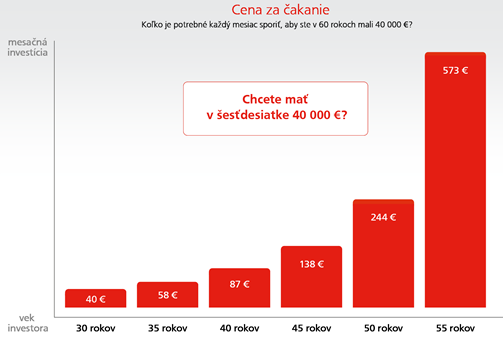 Vlastnite svoj domov
Mnohí z nás si prenajímajú dom alebo byt, pretože si to nemôžeme dovoliť, alebo preto, že si nie sme istí, kde chceme dlhodobo žiť. A to je v poriadku. Prenájom však často nie je dobrou dlhodobou investíciou. Ušetrené peniaze si odkladajte, aby ste mali z čoho platiť bývanie aj v dôchodku. Alebo zvoľte kúpu vlastného bývania ako spôsob budovania vlastného kapitálu.
Vyhnite sa luxusným kolesám
Nie je nič zlého pri kúpe luxusného vozidla. ALE!
Ako rýchlo sa znehodnocuje auto?
To samozrejme závisí od značky, roku, dopytu po vozidle atď, ale všeobecné pravidlo je, že nové auto stráca 15-20% svojej hodnoty za rok. Takže dvojročné auto bude mať cenu 80-85% z jeho kúpnej ceny, trojročné auto bude mať hodnotu 60-65% z jeho kúpnej ceny.
Stručne povedané, najmä keď ste mladý, zvážte nákup niečoho praktického a spoľahlivého. Všímajte si mesačné náklady. Z dlhodobého hľadiska to bude znamenať, že budete mať viac peňazí na tvorbu ostatného majetku a lepši budúcnosť. Potreba vyniknúť pred priateľmi a susedmi je silná. Kto tomu odolá, získa možnosť budovať si aktíva pre lepšiu budúcnosť. Verte, že jesť suchý chlieb, aby ste sa vozili na drahom aute, to vie pokaziť náladu.
Nerobte zo seba žoldniera
Niektorí jednotlivci sú mimoriadne lojálni voči svojim zamestnávateľom a zostanú s nimi roky, bez toho, aby zistili, že ich príjmy sa nikam nehnú. Môže to byť chyba, pretože zvyšovanie príjmov je vynikajúcim spôsobom, ako zvýšiť mieru úspor.
Vždy dajte pozor na príležitosti a snažte sa nesprávať, ako žoldnier. Pýtajte si, čo si zaslúžite, ale nevyberajte len podľa platu. Pracujte tvrdo a nájdite zamestnávateľa, ktorý vám poskytne plat, aký vás uspokojí a umožní vybudovať ďalšie aktíva pre budúcnosť.
Na záver
Nemusíte vyhrať lotériu a vidieť sedem čísel na vašom bankovom účte. Pre väčšinu ľudí, jediný spôsob, ako odísť do dôchodku, je dosiahnuť to v priebehu času. Nemusíte žiť ako chudák na vybudovanie primeraného hniezda a pohodlne odísť do dôchodku. Ak začnete skoro, šetríte úsilie, a vaše ciele budú skôr na dosah.
Začnite teraz, napíšte správu cez kontaktný formulár a nechajte si odborne poradiť a načrtnúť budúcnosť pri rôznych rozhodnutiach.