Keď sme pri plnej sile nikomu sa nechce myslieť na odchod z práce a užívať si spokojný dôchodok. A však práve toto treba starostlivo naplánovať, čo najskôr. Viete, aká je Vaša cena za čakanie?
Na to, aby sme boli riadne pripravení, je vraj odporúčané začať sporiť, keď človek nastúpi do stálej práce. Stáva sa, že nie všetci si môžeme dovoliť odkladať si peniaze a ideme každý mesiac "na doraz". A však je dôležité mať plán, ktorý pomôže pri nevyspytateľných situáciách, a vďaka ktorému sa pripravíme na spokojný dôchodok, bez finančných problémov.
Cena za čakanie
Existujú dva druhy sporenia, a to je krátkodobé a dlhodobé. Krátkodobé sporenie potrebujeme na nepredvídateľné situácie, ktoré nás môžu počas života stretnúť. Ľudia častokrát zabúdajú na to, že si treba sporiť dvakrát. Jednoducho si to rozdeľte, jedno si odkladajte pre prítomnosť a druhé na dôchodok. Nemusíte si odkladať polovicu výplaty. Čím skôr začnete, tým menšiu čiastku stačí odkladať.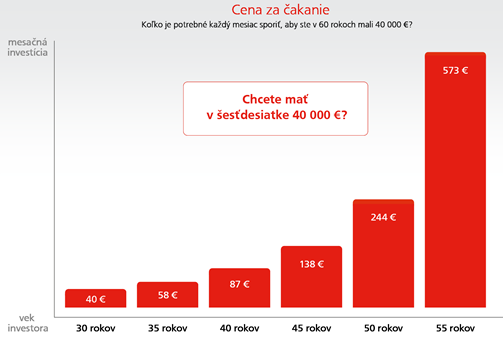 Pri sporení to samozrejme nekončí, netreba podceňovať infláciu. To znamená, že každým rokom dochádza k všeobecnému rastu cien tovarov a služieb a o 10 alebo dvadsať rokov už vaše peniaze pravdepodobne nebudú mať rovnakú hodnotu, ako dnes. Niektorí ľudia si peniaze odkladajú ale nezhodnocujú, čo je podľa odborníkov chyba. Preto ak ste opatrní a bojíte sa zhodnocovať svoje peniaze niektorými nástrojmi, je potrebné poradiť sa a nájsť riešenie, za pomoci odborníkov.
Finančný plán je cestou k cieľu
Jednou z najdôležitejších príprav je preto finančný plán. Ako na to? Na základe podrobnej analýzy vašej situácie získate návod ako si splniť svoje strategické finančné ciele pomocou efektívnych finančných produktov, ktoré sú k dispozícii na trhu. Profesionáli zohľadnia váš vzťah k riziku, pričom vám prispôsobia riešenie na mieru. Pri správnom finančnom pláne sa na spokojný dôchodok budete tešiť, budete mať viac času na seba, vašich blízkych a na cestovanie.
Na bezplatnú konzultáciu finančných služieb v najvyššej možnej kvalite dohliada analytický tým produktových manažérov z Broker Consulting. Dohodnite si stretnutie cez kontaktný formulár.